Tea tree Oil Acne Cream
This product is currently sold out.
Tea Tree Cream

Anti-Acne Treatment
Natural Acne Cream
Tea Tree effective anti-acne treatment cream
Strengthen the formula, adjust skin PH value, and balance oil secretion. Quickly eliminate severe acne, acne scar and pimple. Restrain acne from appearance again. Improve the damaged skin. Keep skin clean and healthy.
Acne-removing series
For acne skin, joint more than 1300 skin doctors at home and abroad research and development the acne skin conditioning formula. The Unique plant conditioning factor helps regulate the skin PH value, improve ability of skin resistance. Restore skin to become healthy and beautiful.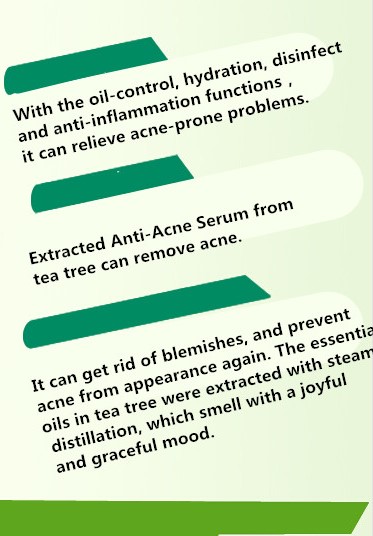 Acne removal skin care conditioning formula
Select safe ingredient strictly, refined from pure plant raw materials. All help balance the skin PH value, and powerfully remove acne.
Plant conditioning factor
100% herbal essence, high penetration, effectively balance skin PH, improve inmmunity, and make the skin restore health and balance.